Working principle of color sorter - product quality assurance of Yongrui photoel
Publishdate:2020-02-07 09:59 Views:
Anhui supply color sorter - Yongrui photoelectric color sorter product quality assurance, Anhui Yongrui photoelectric in color sorter industry. Innovation leads development, and scientific and technological achievements are reaped. Our company has a large number of professional technical staff, based on the technical strength, the production of color sorter. In the color sorter by the majority of demand groups of recognition and praise. Welcome to cooperate, give full play to the existing overall advantages of the enterprise, rely on scientific and technological progress and scientific management, further adjust the industrial structure, expand the business scale and expand the business field.
The working principle of the color separator is that the selected materials enter the machine from the hopper at the top, and are transported along the channel through the vibration of the vibrator device to enter the observation area in the sorting room, and pass through between the sensor and the background plate. Under the action of light source, according to the intensity and color change of light, the system generates output signal to drive the solenoid valve to blow out the heterochromatic particles to the waste hopper, and the good selected materials continue to fall to the finished product hopper, so as to achieve the purpose of selecting other materials.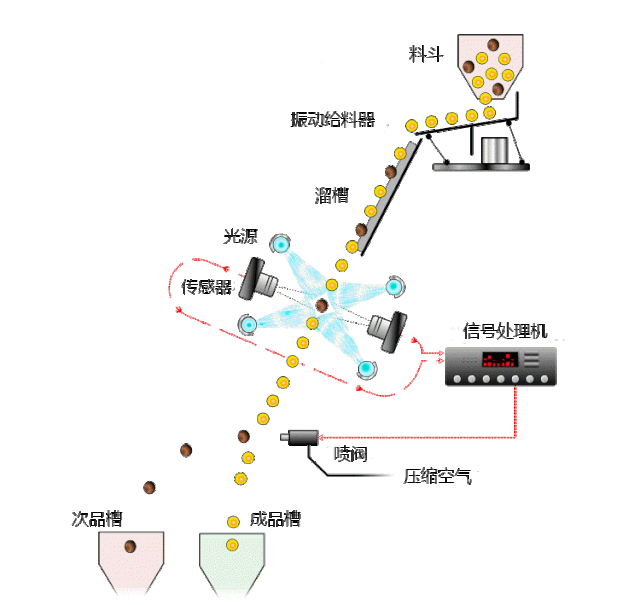 Adhering to the spirit of "continuous improvement and independent innovation", Anhui Yongrui photoelectric not only takes the road of independent innovation in the production and sales of color sorter, but also unremittingly pursues high quality in service. The color sorter has been sold by wholesale, retail, direct sale, factory direct sale and physical store sales. The company serves customers wholeheartedly. After sales, the products can provide 24-hour online consulting service, which can avoid the worries of the demand groups when they choose our products.
Since its establishment in 2016, Anhui Yongrui Photoelectric Technology Co., Ltd. has focused on providing good color sorters for the demand groups. The company follows up the trend in time, bases itself on a new starting point and creates a new situation. With advanced production and processing equipment and professional packaging production line, the new product development cycle is short, the ability is strong, the accuracy is high, and the manufacturing process is advanced. Welcome to cooperate with the masses in need.
Working principle of color sorter - quality assurance of Yongrui photoelectric color sorter products. Anhui Yongrui Photoelectric Technology Co., Ltd. is located in building B, building 2, urban science and Technology Industrial Park, Yaohai District, Hefei City, Anhui Province. It has been focusing on the production and research and development of color sorter. The quality and service of products are well recognized by many demand groups. Our company strives to improve the after-sales service quality and customer satisfaction. If you want to buy excellent color sorter, welcome to consult, we have related professionals to introduce our products to you.
If you want to know more about Beige concentrator, ore color concentrator, tea color concentrator, plastic color concentrator, wheat color concentrator, dry goods color concentrator, please call. Anhui Yongrui Photoelectric Technology Co., Ltd. is waiting for your call all day